International Visitor Service 
International service guests are provided with information and assistance in English, Spanish, French, Swedish, German, Russian and Estonian. Sermons are also interpreted into all these languages. The Central Association of the Finnish Associations of Peace (SRK) is jointly responsible for lodging the service guests from Russia and Estonia together with the International Visitor Service personnel.
International Visitor Service +358 40 535 0594
The International Visitor Service Desk is assisting the international guests with lodging if needed.
There will be an international evening on Sunday, July 1, 2012 at 6 p.m. at the Loppi School Centre, in Loppi-Hall. The gathering includes an introduction and discussion about the service motto "God is our refuge in His city" presented by Tapani Kinnunen. Transportation to the school center from the service site departs from the summer service bus departure area at 5 p.m..
Countries in which SRK does mission work: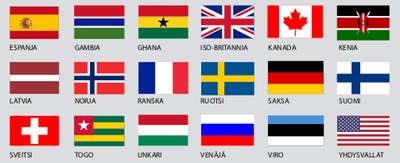 Means of payment on service site 
Purchases at the summer services can be paid with cash or the following cards: Visa­Electron, Visa, MasterCard, Diners Club, American Express, and bank cards.
The largest note accepted by cashiers is €100. For speedier service, cash payment is recommended for small purchases.
You can withdraw cash from the bank in the main service area with a bank card, a debit/credit card, or a VisaElectron card. You must present proof of identity, such as a driver's license or a passport. You can exchange US dollars and Swedish crowns for euros at the bank.
Other services
Postage stamps are sold in the SRK book store. Mail left in the mailbox in front of the store is stamped with a special summer service postmark.
Mobile phones can be recharged at the recharging desk using your own charger.
Name bracelets for children can be purchased at information desks, at restaurant cashiers, and in convenience store on the service site.
Important telephone numbers 
Emergency phone number                                                 112
Loppi Police Station, Riihimäki                                            +358 71 873 0311
Summer Services Security office                                        +358 40 535 0715
International Visitor Service                                               +358 40 535 0594
Taxi                                                                               +358 200 14100
First Aid,  24-hour service                                                  +358 40 535 0307